EVENT


INFO


The Vinetta Showcase is a high-impact pitch and panel series that features female founders who pitch the room and an elite panel of active investors as well as successful startup founders. Our esteemed panel offers straight-talk, actionable advice, feedback and connections to make these companies stronger.

The Showcase is an opportunity to preview great companies being built by women and to hear from the most influential investors and entrepreneurs out there.

AN EXPERIENCE​
​
The Showcase isn't just a pitch event, it's an experience.
Vinetta creates a space that fosters connections in an intimate environment. The Audience is an integral part of what makes each Showcase uniquely powerful. Join a select group of 80-100 entrepreneurs, venture influencers, young professionals and service providers. Become part of a regional network that sees the massive growth potential for investing in gender diverse teams.
Date

March 21st, 2016

Time

Starts 6:30pm

Location

XO Group Inc.
195 Broadway, 25th Floor
New York, NY
10007
Schedule

The evening is a mix of high impact networking, panel discussions and pitches. The 3 pre-selected founders who present their startups receive critical feedback, targeted questions and actionable advice.

6:30 - 7:00 | Arrival, Food, Wine, Networking

7:00 - 8:30 | Panel Discussion, 3 pitches, Q&A and Advice

8:30 - 9:00 | Closing remarks, Final networking
---
The Vinetta Project's network is based on quality over quantity. We offer a limited number of tickets and invites to our events in order to maintain a productive networking atmosphere.



Click here



for more information on the Vinetta Project and our strategic entreprenerial ecosystem
---
Panelists
Emily Bell
Program Manager, ERA ​

Emily is a former management consultant and unapologetic spreadsheet enthusiast, unafraid to roll up her sleeves, nurture NYC's most dynamic startups and grow the ERA community.

Prior to joining ERA, Emily served as a strategic and business development advisor to several tech startups. Before that, she was a strategy consultant with Booz Allen Hamilton, where she helped lead the firm's re-entry into the commercial market, establishing a NYC-based practice serving the financial services industry. Emily was instrumental in growing the nascent business from a team of four with zero revenue, to 25+ with more than $8 million in revenue and top enterprise clients.

Emily received a B.S. from Penn State University. Hail to the Lion!

Nnamdi Okike

Co-Founder and General Partner

, 645 Ventures

Nnamdi Okike is a venture capitalist and angel investor with an extensive track record of investing in leading software and Internet companies. Nnamdi is Co-Founder and General Partner at 645 Ventures, a seed to Series A venture capital firm headquartered in New York. 645 Ventures applies an institutional model to investing in early-stage companies, applying a data-intensive model to identify, invest in, and add value to high-potential technology companies. Nnamdi oversees the fund's investment strategy and has led investments in companies such as Keaton Row, Poshly, ALICE, LeagueApps and Rifiniti.

Nnamdi has invested in over twenty-five companies as a venture capital investor over the course of his career. He has also been an active angel investor in seed-stage companies. He previously spent eight years at Insight Venture Partners, a $7 billion multi-stage venture capital fund focusing on software and Internet companies. His historical investments at Insight include Folhamatic (acquired for $300 million), Mimecast (IPO), Hitwise (acquired for $240 million), DivX Networks (IPO), and Astaro (acquired by Sophos). He has been published in TechCrunch, spoken at Inspirefest, and been profiled on Forbes.com.

Nnamdi previously worked as a private equity investor for Kayne Anderson Private Investors; as a business development officer at Verne Global; and as a consultant for Boston Consulting Group.
Nnamdi received his BA with cum laude honors, JD with cum laude honors, and MBA with second-year honors from Harvard University.

Liz Wessel
​Founder, WayUp
​


Liz Wessel is the Co-Founder and CEO at WayUp, the largest marketplace exclusively for US college students to get jobs and internships.

Founded in July 2014, WayUp is a 35-person startup in NYC, and was named by CNN as one of the 30 most innovative companies changing the world in 2015. WayUp has raised $9.1M in VC backing in its first year from funds including General Catalyst, Index Ventures, Y Combinator, BoxGroup, and more.

​Prior to founding WayUp, Liz worked at Google as a Product Marketing Manager in California and then in India. Liz recently was named to the "Forbes 30 Under 30" list for 2016.

Sonpreet Bhatia
Founder, MobileROI



Sonpreet is the Co-Founder & CTO of MobileROI.

MobileROI is the only mobile-first marketing automation software to contextually engage, educate, reward and delight at every touchpoint along the customer journey across digital and physical landscapes.

Sonpreet has extensive experience in technology architecture, new media and in leading teams in developing large-scale, real-time systems.

Named to "The Silicon Alley 100: New York's Coolest Tech People In 2010" and '35 Up-And-Coming Entrepreneurs You Need To Meet.' by Business Insider magazine, Bhatia has also written a technical book for IBM Redbooks, "WebSphere for z/OS V6 Connectivity Handbook."
---
Your HostS
Vanessa Dawson

Founder, The Vinetta ProjectFollow @

Veedaws

​

Sushma Arodi

City Director, The Vinetta ProjectFollow @

SushmaArodi
---
Powered by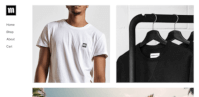 Create your own unique website with customizable templates.